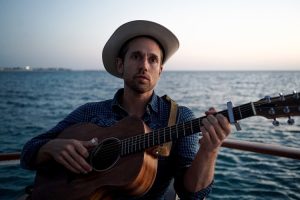 Mixing classic country music with modern satire, Ryan Cook has forged a sound between contemporary folk and dyed-in-the wool country.
With nuances of pop and western swing, Ryan's songbook reminiscences of the early hillbilly and folk pioneers but stays very much in the current landscape. On stage Ryan has toured as a solo performer opening for Country purists like Dwight Yoakam, Rosanne Cash, & Travis Tritt. His acoustic live show combines thumb-picking guitar styles, original folk & country ballads and vintage music from the 1940's and 1950's.
As an independent artist Ryan has received over 20 nominations in Canada, three Album of the Year awards in Nova Scotia, and written, produced and published music in Nashville, TN. Ryan has performed on many big stages including the Ryman Auditorium, Ernest Tubb's Midnight Jamboree, CMA Music Festival, Music City Roots, Maverick Music Festival (UK), Stan Rogers Folk Festival (NS), and Cavendish Beach Music Festival (PE). Online Ryan has over a million YouTube views, 5000 Facebook followers, and 2000 Twitter followers. Ryan regularly performs a theatrical musical tribute to Hank Williams Sr. and has performed tributes to Merle Travis, Merle Haggard, and Johnny Cash. Beginning in 2007 Ryan has performed over 1000 concerts in North America, Europe, and Southeast Asia.
Thursday 28th March 2019 :: 7.30pm
With Support from: EDDIE OGLE
The White Bear Inn, Wheelock Street, Middlewich, Cheshire, CW10 9AG
For Tickets please click here or email lizrosenfield@cheshirefolk.com
www.ryancook.ca | Suitable for ages 10+